22nd January 2018
I've long harboured a not-so-secret desire to work at White Post Farm. The thought of spending time with all the lovely, cuddly animals just seems like the perfect job to me, so I was delighted to be given the opportunity to get a taster of what happens on one of their Farmer Days.
My guide for the afternoon was Farmer Anthony (other guides are available) who asked me what I wanted to see and do and then suggested some fun activities. The great thing about these Farmer Days is that the customer gets to choose the kind of stuff they'd like to experience. You like reptiles – you can spend a few hours with the snakes and other critters. If meerkats are more your thing, that's no problem, because these days are tailored specifically for you. Almost even better is that fact that they give you a White Post Farm sweatshirt to wear for the day (and keep)!!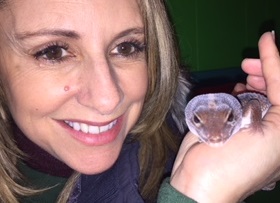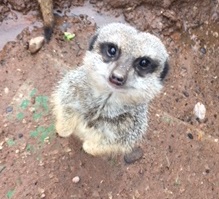 We started our trip around the Farm in the reptile house where we met Craig. As well as spending his days with bugs, worms and arachnids, Craig also takes the creatures out on roadshows – so what he doesn't know about the eating habits of tarantulas probably isn't worth knowing. After being slightly disturbed by witnessing feeding time for the bearded dragons (I can't help feeling sorry for the locusts!) Farmer Ant decided that I needed some fresh air, so he grabbed some worms and we headed off to meet the giant tortoises.
There is something really special about being able to go into areas that are usually fenced off, so actually getting the chance to go inside the giant tortoise enclosure and meet 29 year old Hulk and his girlfriends was a real highlight. This prehistoric-looking African Spur Thigh trio obviously loves it when people pop in to see them (or maybe, like dogs, it's because we had some food for them) but they were soon following me around and sticking their heads out for a stroke.
Moving on to the next-door meerkat enclosure, it was difficult to not want to grab one and cuddle it. However, think Verucca Salt with the squirrel in Charlie and the Chocolate Factory. The staff at White Post Farm deliberately do not try to tame the 5 male meerkats and, although it is safe for staff to go into the enclosure to leave food for them, much closer contact is not advised! They are incredibly cute though and are friendly to a point, especially when you are distributing the rather disgusting worms they love to eat.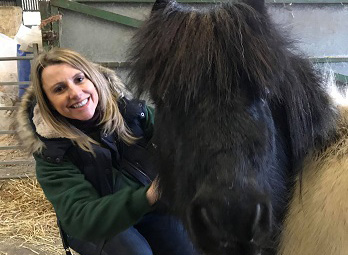 Our next visit was to the animals you could cuddle – the baby goats! As some of the goats had only been born in December, it was definitely cuteness overload. Don't wear your best clothes on a Farmer Day – there is a very good chance that you will have furry animals climbing over you! We also got the chance to meet the sheep and the reindeer up close and learn about how they are looked after on the farm.
Next, we took two of the Shetland ponies, Holly and Charlie, out for a walk around the Farm. As usual, I had absolutely no control, so Charlie took full advantage and ate as much grass as he possible could (sorry White Post Farm!) but we managed to make it up to the paddock to see the donkeys. To be fair, the ponies are absolutely gorgeous and very gentle and it was just like walking a large dog. After a quick brush down back in the stable, our last port of call was back to the reptile house to give the baby tortoises a bath.
It's hard to image that these tiny things are the children of the humungous Hulk but it was a real treat to be able to handle them and learn more about how they live and what they eat. And that's the great thing about days like this – as well as being tons of fun, they are also very educational (without being at all boring).
No matter how much I hinted, no job offer was forthcoming, so I reluctantly ended my time at White Post Farm, having had an amazing time and learned lots. The staff are wonderful, so friendly and always happy to answer questions – no matter how random - and they obviously love working with and take a great deal of care of the animals.
If you fancy spending some time down on White Post Farm, you can enjoy a Farmers Day from £80. Lunch is provided and the day lasts from 9.30 am until 3.30 pm. Find out more on their website here.