17th January 2017
I have to admit that Spokes was not on my radar - in fact, I had never heard about it until I stumbled across a Tweet they'd sent out about their coffee.
Located in the heart of Nottingham University's Jubilee Campus (for those locals reading this - it's where Raleigh used to be) Spokes opened in September 2017 and is actually part of the DeVere Jubilee Conference Centre but quite possibly as different to your expectations of a conference centre restaurant as you could imagine.
The glass frontage allows the inside to merge almost seamlessly with the great outdoors, offering lovely views of the man-made lake, which has its own weir and is a great place to spot birdlife - they even have a resident Heron. All around the lake are weird and wonderful examples of architecture, housing various University departments and creating an interesting skyline.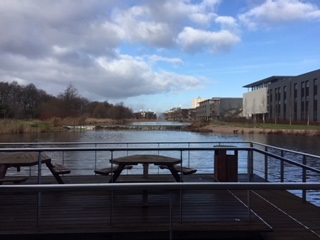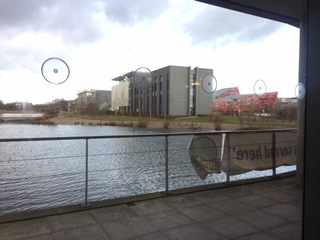 The interior is warm and spacious, with the kind of friendly atmosphere that would make it far too easy to tag onto the free wifi and lose yourself for a few hours. There are comfy booths and plenty of seating. Being right in the middle of the university campus, you might expect Spokes to be overrun with students. Not so. The clientele is varied and the vibe is kind of professional but relaxed. The music is played at just the right level - meaning that you can chat to the person opposite without having to resort to lip-reading.
The decor is pleasant, with plenty of glass, wood and displays of bike wheels on the walls - in remembrance of Nottingham's once booming cycling industry. Spokes (get it?) offers both lunch and dinner menus and will soon have a fully-licensed bar, although alcohol is currently available at the bar in the conference reception centre, a short stagger away.

All around me, people were tucking into a wide variety of dishes from the lunchtime menu, which includes flatbreads, salads and the daily specials (gluten free options are available) - all of which were sizeable in portion. I chose the 11 inch Italian Meats Pizza, which is cooked to order and costs a very reasonable £4.50. On arrival, I decided that I had chosen wisely. The pizza was plenty big enough to satisfy 2 people, cooked to perfection and loaded with a variety of toppings. There were lots of different 200 Degrees coffees to choose from and I washed my pizza down with a rich and creamy cappuchino, which is always a good choice.
A flatbread with proscuitto ham, plum tomatoes, lettuce and mustard mayonnaise to eat in costs £2.95, with soup of the day at £2.50, making Spokes an attractive prospect for a filling and reasonably-priced lunch. I genuinely didn't have enough stomach space left to try any of the rather tasty looking cakes on display but I'm sure that I will be returning for coffee and cake again soon. They will soon be launching a kids' menu and there are plans for Valentines Day and other special events, so basically, watch this space!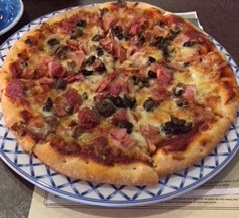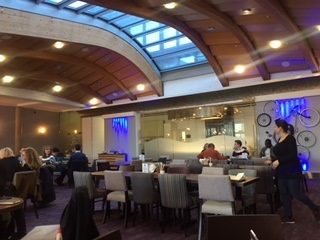 Whether you arrive by car - free parking is available on-site, bike - there's a bikeshed nearby, or on foot, Spokes is definitely one venue I recommend you try out. With outdoor seating on the patio overlooking the lake in summer, a daily changing specials board and a chilled-out atmosphere, this could be the ideal place for you to escape the hustle and bustle of the City, without actually having to travel very far.
The evening menu offers mains including burgers with fries and salad at £12.95 and mushroom stroganoff at £9.95, as well as a selection of steaks and pizzas. I can't comment on these but, if you check out their menu, you'll see that there is a reasonable variety.
Spokes is open between 7.00 am and 9.30 pm Monday to Friday and offers table service between 6.00 pm and 9.30 pm. Breakfast is served on a Sunday between 7.30 am and 12.00 noon. Spokes is located on the Jublilee Campus, Triumph Road NG8 1DH. Follow the signs to the DeVere Conference Centre.