October Half-Term Events in Nottinghamshire
Here's our pick of what's happening across Nottinghamshire this October Half-Term.

Please take a look at our events guide for what's happening across Nottinghamshire this October Half-Term. We'll be adding more events every day, so please keep checking back and follow us on Twitter for all the latest updates @things_to_do.
_________________________

Dino Kingdom
Thoresby Park

15th to 31st October 2021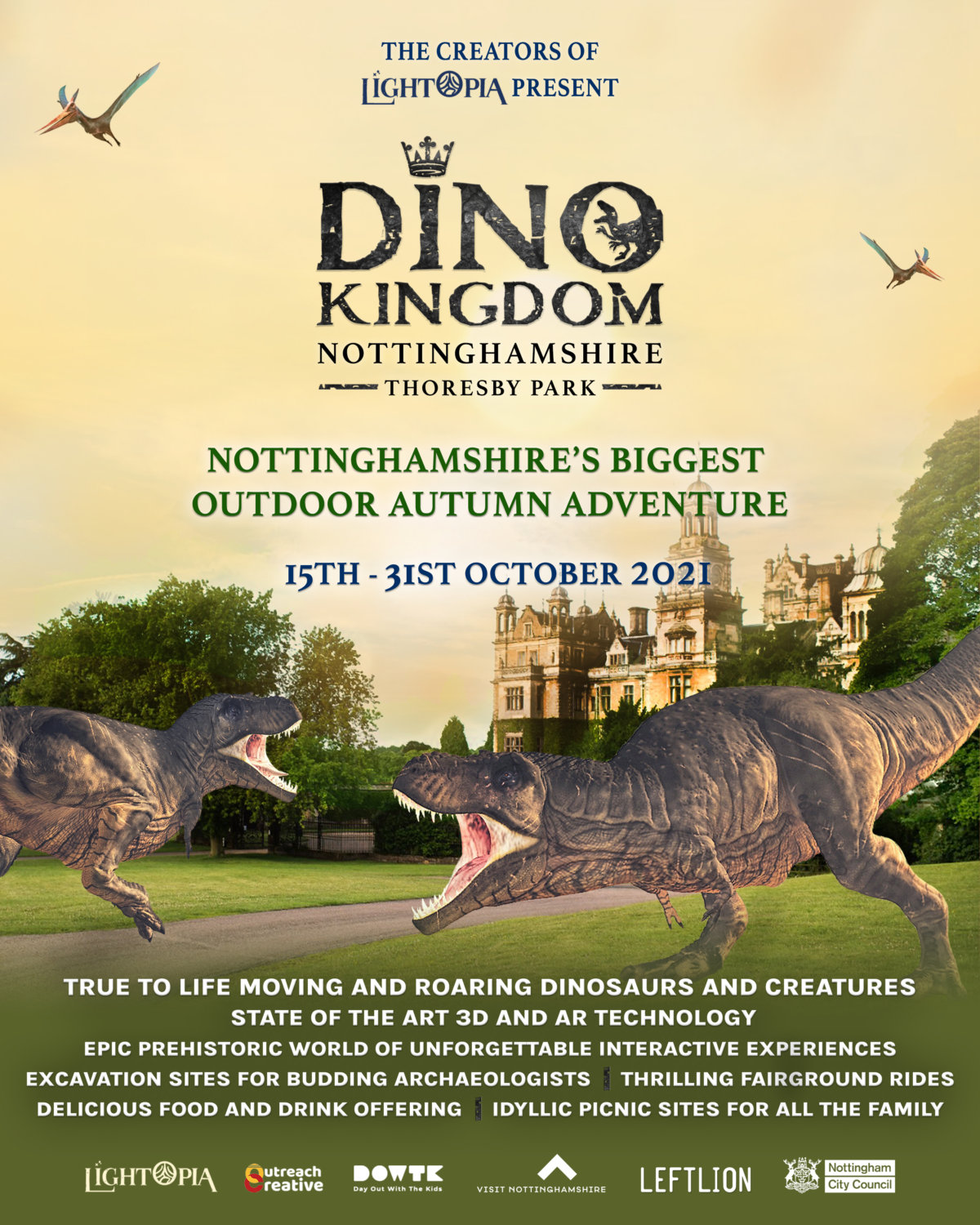 If you're a dinosaur fan, you need to head to Thoresby Park this October, where Dino Kingdom will be unleashing 100 prehistoric beasts.

Step back in time and explore roaring and moving Dinosaurs and state-of-the-art 3D and AR technology. Immerse yourself in unforgettable interactive activities and enjoy a range of thrilling fairground rides, delicious food and drink and much more.

Dino Kingdom is dinosaurs like you've never seen them before…

Halloween Specials will take place on 22nd to 24th and 29th to 31st October, where those who dare will be taken on a spooktacular adventure trail, lit by eerie lights and lanterns and dinos that come to life. Expect lots of surprises on route.

More information and tickets.

__________________________


Spectacle of Light
Rufford Abbey Country Park

28th October to 14th November 2021




The Magical After-Dark Adventure for all the Family!

Enjoy the new illuminated trail around Rufford Abbey's stunning grounds, with sparkling installations throughout the beautiful gardens and romantic ruins.

Captain your own ship and scale the castle walls as you explore the night-time wonder of the new Adventure Play Area all lit under the stars.

Enjoy the new illuminations along the magical trail around Rufford's stunning grounds. Gaze at the garden of Glowing Spheres. Walk through the Kaleidoscope of Colour and marvel at the flickering Field of Fire!

Sip delicious night-time warmers of Mulled Wine and Hot Chocolate as you follow this magical trail around these beautiful grounds. Tuck into scrumptious hot food in the Abbey Courtyard.

More information and tickets

__________________________

Mayhem Film Festival
Broadway Cinema, Nottingham

14th to 17th October 2021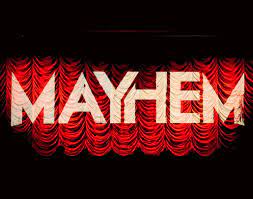 The annual Mayhem Film Festival offers the best in horror, sci-fi & cult cinema from around the world, including premieres, special previews, archive classics and a short film showcase. Held at Nottingham's iconic Broadway Cinema, this is the event for film buffs.

More information and tickets

____________________

Titus: T.Rex is King Exhibition
Wollaton Hall

To August 2022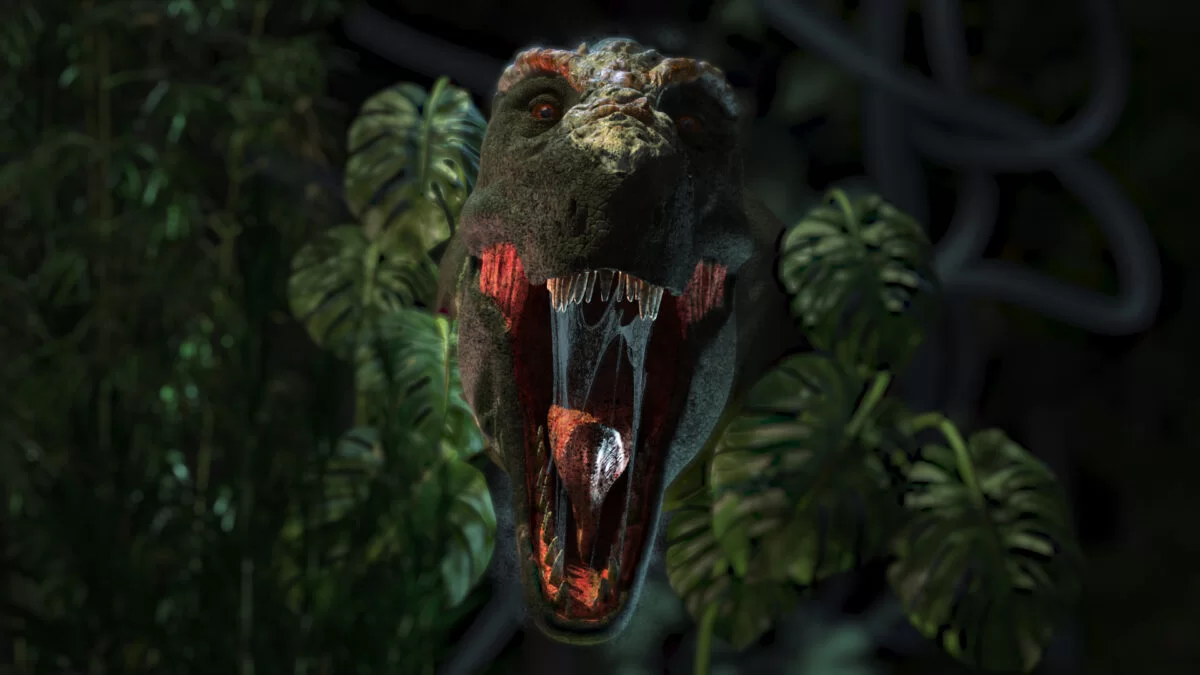 Get ready for a roaring day out to see the first real Tyrannosaurus Rex to be exhibited in England for over a century!
Titus: T. rex is King is an extraordinary exhibition where you can explore the world of this titanic predator and his story. You'll see the skeleton of the T. rex himself, as well as digital and interactive virtual media displays that will immerse you in his extraordinary journey from discovery in the Montana Badlands in the USA, through the experience of excavation, curation, examination, rebuild and final reveal.
You will also be able to explore the legend of the T. rex, learn the truth behind the myths about this iconic dinosaur – and perhaps decide if in fact he was covered in scales, feathers or both.

More information and tickets

__________________________


Craft and Artisan Food Market
Thoresby Park

16th October 2021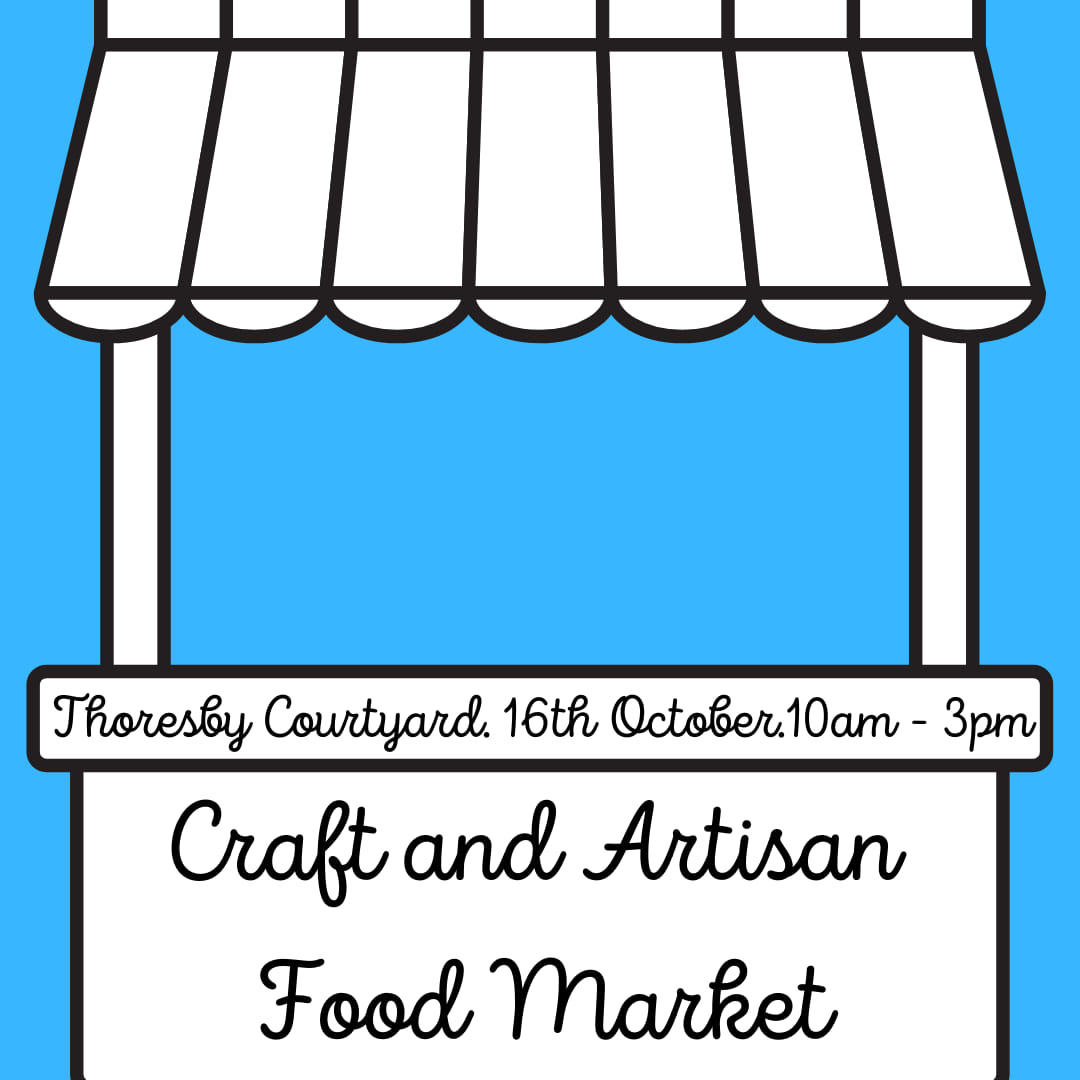 Craft and artisan food markets offering a range of stalls from homemade dog treats and homemade bee products to gin, chutneys, jewellery and more.

Pop down between 10am – 3pm to purchase a unique gift for a loved one or to treat yourself!

Parking at Thoresby costs £1.00 for up to 1 hour or £3.00 for the day.

____________________________


Wonderdome Mobile Planetarium
Thoresby Park

29th October 2021



An immersive experience within the mobile planetarium. Come and discover the stars and planets and all about astronomy. Suitable for ages 3 and over.

Cost: £4 per person
Timeslots: 9am, 9.40am, 10.30am, 11.15am, 12pm, 1.15pm, 2pm, 2.45pm or 3.15pm.

Book your tickets

______________________

Kids' Ghost Hunter Tours
National Justice Museum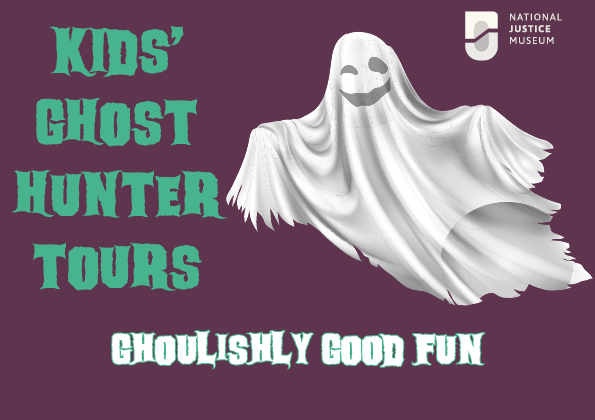 Catch the pesky ghosts this October at the National Justice Museum.

Around Halloween, the National Justice Museum becomes a hive of paranormal activity. Are you brave enough to help our over-worked Ghost Hunter catch the pesky ghosts which are causing mayhem throughout the museum?

Recommended age 5-10 years old
Dates: Friday 22, Saturday 23, Thursday 28, Friday 29, Saturday 30, Sunday 31 October

Timings: 5:00-6:00pm (more timings may be added at a later date)

Tickets: £6.95 per person

Visit www.nationaljusticemuseum.org.uk to book your tickets

________________________________

Halloween Events
Notts Maize Maze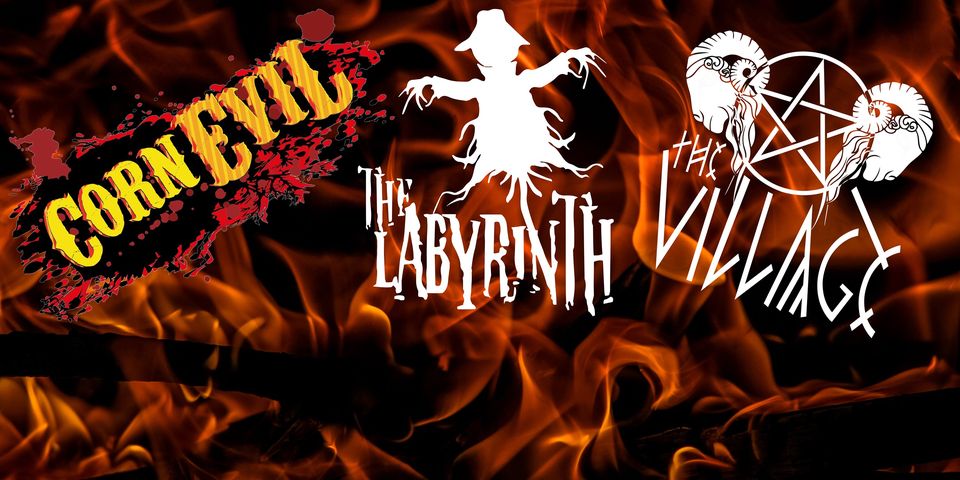 The best of Halloween… all in one place! Nott's maze invites you to explore Tricker Treat Maize Farm.
This isn't your usual day out at a farm… There will be pumpkin carving, spooky stories around the fire, Halloween duck hunt and various craft options for you to partake in. Fancy a challenge? There will be a spooky scavenger hunt and word search to complete as you walk through the maze. All taking place within and around their 12-acre maize maze – there will even be characters waiting to meet you along the way!

Tricker Treat Farm is set to be the children's Halloween event of the season.

Book your tickets now as spaces are limited for the day! Suitable for all ages. Children under 14 must be accompanied by an adult over 18. Whilst this event is not designed to be frightening, we leave it at the parent's discretion to decide if the event is appropriate for your child.

For each pre-booked child ticket, we will offer a complimentary pumpkin. Please note there will be a maximum of three pumpkins per family ticket.

More information and tickets

__________________________


Oktoberfest
The Garage, Chilwell

15th and 16th and 22nd and 23rd October






For two exclusive weekends this October, The Garage will be transformed into a Bavarian Beer Hall with the world famous Paulaner Oktoberfestbier taking centre stage alongside traditional German foods such as bratwurst and currywurst. Alongside a team of beer girls and one of the best Oompah bands in the UK, Oktoberfest at The Garage is set to be one of the best events of the year.

The Garage – the site of the old Bartons bus headquarters in Chilwell - will be staging the event on Friday October 15th and Saturday 16th ,and the following weekend Friday October 22nd and Saturday 23rd. On each Saturday there's a lunchtime Family session with live music, face painting and children's games between 1pm-4pm. Returning for a third year, The German Grill will be serving up their beautifully crafted Bratwurst and Currywurst in addition to their flamed cooked smoked salmon adding to the event's authenticity. They'll also have vegan and vegetarian options available too. Making her debut this year is local baker Freudebakes, who will be rustling up Schwarzwälder Kirschtorte and Orange & Almond mini bundts for those with a sweet tooth.

And for those of you that aren't fussed about beer, there is a full bar selling wines, spirits and soft drinks.

More information and tickets

_____________________________


Halloween Festival
White Post Farm

23rd to 31st October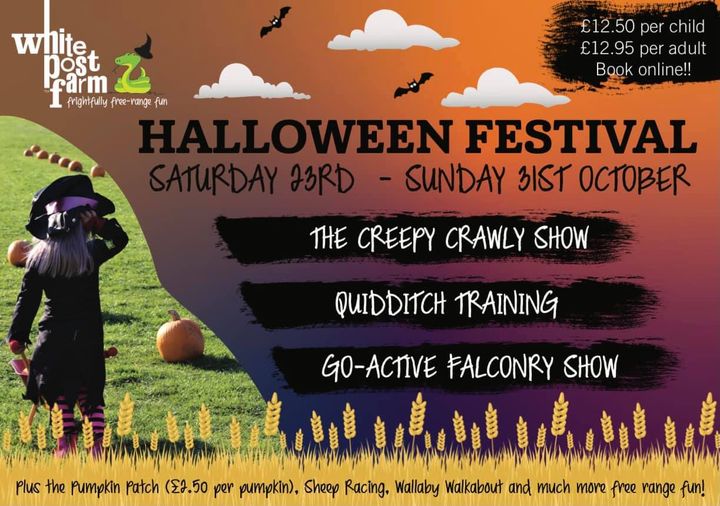 The Halloween Festival 2021 is now available to book online.

Super stage shows, pumpkin carving and loads of fabulous farm fun every day from 23rd until the 31th October.

Book tickets here

____________________________


Halloween Festival
Sundown Adventureland


16th to 31st October 2021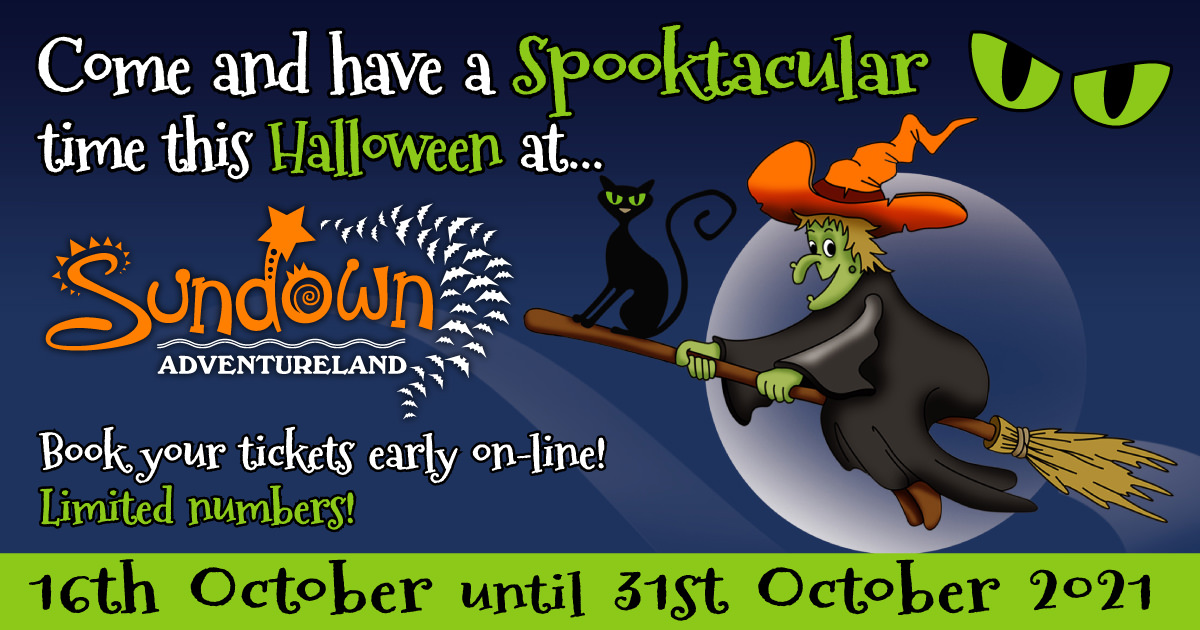 For the spookiest, family-friendly fun, you can't beat the Spooktacular Sundown Adventure at Sundown Adventureland. This year we've had even more time to think about things and we wanted to make sure we give you and the kids a great, fun-filled, spooky day out.

The fun starts with a brand new step by step Lucky Black Cat Puzzle Trail to complete. Enjoy the park (Exploring all of the rides and attractions on the way) and find the eight hidden Black Cats and tick them off your Missing Witch's Black Cat Puzzle List. They are fiendishly hidden throughout the park, so you'll need your best exploring shoes, a keen eye and your big brave pants on to complete it

We PROMISE you don't need to worry about the little ones as it's only ever spooky and NEVER scary.

The park will be decorated with lots of spooky loveliness throughout and there'll be loads for the kids to see and do.

When you have found them all and completed the puzzle, head over to the Pumpkin Patch Cafe to trick or treat a member of the Sundown Team and get yourself a sweet treat as a reward. It'll be a fun family Spooktacular Sundown day out with adventure and fun for all ages, throughout the day.

More information and tickets

_______________________________


Spooky Sherwood Halloween Trail
Sherwood Forest
16th to 31st October 2021


The spooky spectacle of Halloween is almost upon us and it's the time of year for the mischievous spirits of Sherwood Forest to leave curious clues along its trail through the trees.

We're inviting brave children to lead their petrified parents and frightened families through Sherwood to the famous Major Oak, where, legend has it, Robin Hood and his Merry Men used to hide from the wicked Sheriff of Nottingham. Using our terrifying trail sheet to solve a mission of mystery, courageous kids must track down the clues along the way to reveal a scary secret word. And, just as Robin Hood would have wanted, there is a reward for anyone who dares to take on this chilling challenge.

No need to book. Trail sheets are available from the Visitor Centre for £2.50 each.

Time: 11am to 3pm daily.

_____________________________



Halloween Mask Making
Green's Windmill and Science Centre, Sneinton

30th October 2021

It's 'trick or treat' time again, so come along and make your own self-decorated Halloween inspired mask! All materials supplied.

We'll be running our activities at two thirds capacity to allow extra space for social distancing and we'll only be allowing maximum one adult per child to enter the activity room.

In addition we respectfully ask that adults wear masks throughout the activity.

BOOKING ESSENTIAL! To book a place for this activity please call 0115 915 6878. We're running four sessions at 10.30am, 11.30am, 1.30pm & 2.30pm.

£3 per child. For ages 3+

___________________________


Halloween Trail
Belvoir Castle

17th to 31st October 2021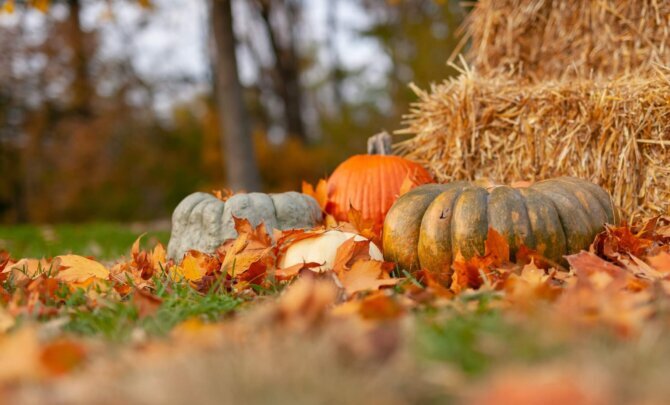 Dare to explore the darker side of history at Belvoir Castle. Join us on a family friendly Halloween trail through the dooms and into our formal gardens. Be careful not to disturb the undead as you enter the Castle dooms, meet frightful guides in disguise, solve spooktacular mysteries and activities.

To take part in our Halloween Trail, please purchase Garden Entry Tickets below.

Children under 4 go free.

Please note: The Castle's State Rooms are closed from the 17th October – 15th November. You can also take part in our trick or treat trail at the Engine Yard or enjoy a bite to eat in our fangtastic Fuel Tank kitchen before you make your escape.

Tickets and more information.

____________________________


Nottinghamshire Pick your own Pumpkins
Oxton, Notts

13th to 31st October 2021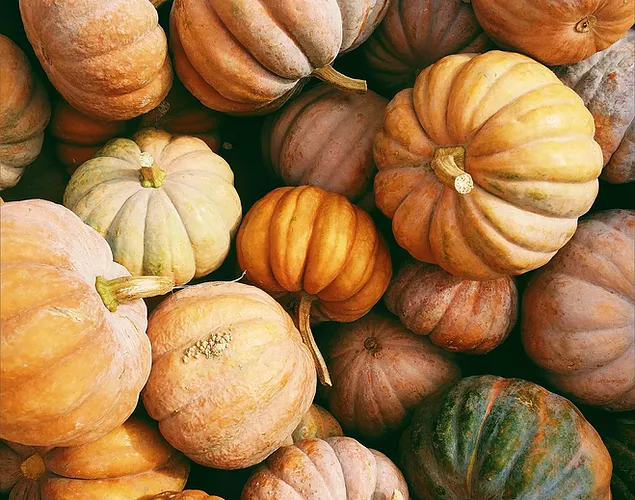 Set in the rolling Nottinghamshire countryside a few miles north of Nottingham, this family-run 'Pick Your Own' has 1000's of pumpkins and squashes for you to choose from in October.

With a family-friendly atmosphere, delicious food by Little Schnauzer Coffee Company and Rocket Dogs, and free parking, this is the perfect outing for all the family! No need to book. Free admission.

Situated just off the A6097 on Oaks Lane, Oxton, Southwell, NG25 0RH.

More information

___________________________


Nottingham Halloween Trail
Nottingham City Centre

18th to 31st October 2021



Put on your favourite frighteningly fang-tastic costumes and find your way around this fun Halloween trail this half term (18–31 October).

Discover the spooky goings on across the city centre. There's seven characters to meet and play with using your mobile device. Each of the 7 gruesome characters will be lurking around in special spooky locations dotted throughout the city centre. To give you a helping hand finding them, they've created a handy map which you can collect for free from the Nottingham Tourism Centre. The map will also be available on their brand new app!

To take part, simply go to the App Store or Google Play on your mobile device and search for 'It's In Nottingham'. The game will only be available 18 – 31 October so you will need to visit your app store during this period.
For the first time ever, Nottingham Bid is bringing the Ecto-1 to Nottingham Castle! The car will be on display for visitors from 10.00am - 4.00pm on Sunday 31 October, along side their heroic team of Ghostbusters. Please note that there is no charge for entering the castle grounds to view Ecto-1.